Readers - Please note that listed prices are accurate at the time of posting and are subject to change. Availability and prices may differ from country to country.
Authors -
If you would like your book(s) to be included in this daily listing,
please click
HERE
Pete & Marie (The C I N Series Shorts) by Christina Leigh Pritchard
Genre - Young Adult (PG)
Price - $0.99
It's 1999 and Millie is faced with a troubling decision. She loves Pete and Pete loves her. So, why's he calling her Marie?
Created (Book 1 of the Created) by Shannon Shaw
Genre - Contemporary / Fantasy (PG)
Price - $1.99
Seventeen year old Ethan awakes to find himself strapped to a medical gurney after being rescued from an attack from creatures that should not exist. Exhausted, and in disbelief, he soon learns that he has unwillingly been selected to take part in a government program that will transform him into a creature from his nightmares.
Guided by another of the Created, Ethan must deal with the rules of his new world, a burgeoning romance with a girl no longer of his kind and fight to stay alive.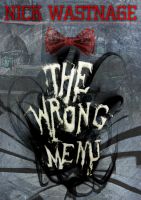 The Wrong Menu by Nick Wastnage
Genre - Mystery & Thriller (PG13)
Ralph Launcier, a successful celebrity chef and restaurateur, is also a drug dealer and a murderer. He fears that Cameron, his brother in law, who picked up the wrong menu one day, is about to blow open his lucrative drug ring, and unearth his murky past. Ralph plans Cameron's demise. The plan backfires. Ralph is killed. Cameron ends up in jail, dependant on his thirteen-year-old stepdaughter.
Ralph and Cameron are good friends, but when Cameron's inquisitiveness starts to threaten Ralph's life-style, he immediately sets to work to eliminate Cameron. He orders his own wife to sleep with Cameron for information, and tells his sister, Cameron's wife, to snoop on Cameron's activities.
Cameron is hounded from his home, becomes a homeless dropout, resorts to petty theft to survive, and shacks up with a drug taker. Ralph comes after him, but is the victim of his own deathly plot.
A page-turning story of murder, drug-dealing, corruption, adultery, and a step-daughter's love and determination to set the record straight: set against the backdrop of the behind-the-scenes workings of a top restaurant.