Tuesday, 13 November 2012
***Today's Sponsor***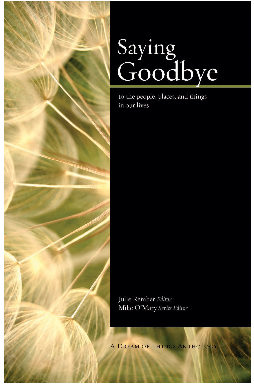 Saying Goodbye - Edited by Mike O'Mary
Genre – Anthology
Rating – PG
4.8 (19 reviews)
Free

until 14 November 2012
Saying Goodbye
is a collection of true stories about saying goodbye to the people, places, and things in our lives. The stories are universal. They are incredibly powerful and moving. And they are surprisingly uplifting and cathartic. "The stories are about love, really, not sadness," says one critic. "Despite all the sadness and grief that come with saying goodbye, there is love and joy and comedy on the Other Side." Says another: "If you have ever had to deal with loss, read this book. It will make you feel better."
These stories show that there is sadness in goodbyes, but there is also irony and humor. We cry about the sad stories, we laugh at the funny ones, and along the way, we learn valuable lessons about how we say goodbye -- sometimes under the most difficult of circumstances. We learn because the contributors are unflinchingly open and honest when it comes to sharing very personal stories about how they and their loved ones say goodbye. Taken together, these stories serve as amazing examples of how to say goodbye with grace, dignity, and good humor.
Saying Goodbye
is the first anthology in a new series from Dream of Things intended to fill the gap between popular anthologies of stories that are "short and sweet" and the Best American Essays series, which are longer form. Dream of Things anthologies are collections of quality stories between 500 and 2,500 words. Instead of short and sweet, these stories are short and deep.
******
On sale for a limited time, and sweeping the globe from Seoul to Amsterdam, London to Japan, American Citizen, Global Citizen by bestselling author Mark Gerzon, is now being released for the first time in the United States. It is not enough for us to wait for everyone else to fix the problems that plague our world. We must realize our global common ground in every aspect of our lives, and become aware of the basic skills that will enable us to be effective anywhere on this planet. Learn how to give yourself a richer and more meaningful life, and pass along a better world for generations to come.
There is only one principle of Felicity: Suffering is optional. Those who disagree or forget this principle, as Sera's father did, are detained and "purified". Through the use of the Darklandia virtual reality and mandatory water rations, the Department of Felicity has transformed metropolises all over the country into happy, obedient communities.
21 year old Christian Reingold believed he had a normal life with normal problems. One night, in a small boat out on the water on the North Cape of New Zealand, Christian discovers that he was wrong. Since the very day of his birth, Christian has been hunted. Pursued with callous intent, by a hidden hand that will stop at nothing to end his life.
Wealthy divorcee Dr. Shannon Patrick meets a local, Joe, while walking on North Topsail Beach. Shannon, a geologist, has recently discovered oil and natural gas in the Marcellus Shale under Ohio. While the newfound wealth has provided her undreamt of new opportunities, including her new beach house in North Carolina, Shannon is still trying to understand her divorce. She feels very alone, even though she has the love and support of her very close family.

This is the debut novel of Nicholas Andrews. The Adventure Tournament is a comedic fantasy, chock full of action, adventure, humor and heart.
Nevertheless, he blunders his way into being the captain of his own team. Now he can follow his dream, but still has to contend with obstacles such as tournament organizers whose motives may not be clean, an overbearing father holding him to academic pursuits, and his own nonsensical noggin, which is better suited for a pack mule than a dashing hero. Still, he's determined to become the biggest badass warrior to ever wield a large piece of wood.
Hey, folks. I'm Joe, and I'm a vampire – not by choice, mind you, but by accident…a fate-twisting, fang-creating, blood lust-inducing misunderstanding.
Instead, it's just one nasty little surprise after another. The truth bears exposing, and I'm pulling back the curtain on all of it. If I can figure out how to keep it from mowing me over in the process, then that's groovy, too. And that thing about vampires sparkling in the sun? That is a bunch of bull.