Readers - Please note that listed prices are accurate at the time of posting and are subject to change. Availability and prices may differ from country to country.
Authors -
If you would like your book(s) to be included in this daily listing,
please click
HERE
Genre - Contemporary Fiction / Romance (R)
4.0 (4 reviews)
FREE

until 18th August 2012
With her 30th birthday on the horizon and life handing her lemon after lemon, Dylan Connelly wants nothing more than to get away from it all for a few days. The last thing she expected – or wanted – was to become intrigued by a gorgeous stranger. But sometimes chance – or fate -- has a way of changing our plans.
True Ghost Stories by Rosemary Breen
Genre - Paranormal (PG)
4.4 (9 reviews)
Read first-hand stories of actual encounters with ghosts written by people from around the world!
This is the first in a series of books on spontaneous paranormal experiences, and the stories are all taken from the only 'live' internet survey on supernatural happenings.
Are apparitions as scary in real life as some books would have you believe? Pick up a copy of True Ghost Stories Volume 1 and decide for yourself. You may actually be surprised.
This book is written and edited by Rosemary Breen who recently completed a higher degree, university study on parapsychological phenomena.
If you are ready for the truth about otherworldly activities this is a great place to start.
Star One: Tycho City: Discovery by Raymond L Weil
Genre - Science Fiction (PG)
4.5 (4 reviews)
FREE

until 18th August 2012
Mase Colton had worked for years in the harsh unforgiving environment of the Moon building Tycho City. Now, with the completion of the Farside observatory complex, a deadly danger to the Moon and Earth has been discovered. A neutron star is about to enter the Solar System.
Can Mase Colton and his counter part, Steve Larson on the Star One space station, find a way to preserve a small segment of humanity against this deadly danger? It's a race against time and the politicians on Earth who refuse to believe in the approaching neutron star.
Suspending Reality by Kelly Rimmer
Genre - Contemporary Women's Fiction (PG13)
4.3 (9 reviews)
FREE

until 18th August 2012
Esther feels like her family of four has become a family of three with a live-in social work project. She is never more aware of her failure to fit in than at her eighteenth birthday party, when the guest of honour becomes the odd one out. One impulsive act of rebellion will change everything – whether or not Esther is ready to deal with the consequences.
Cheryl lives a drama-free life – and its killing her. Motherhood has been a disappointment and the days are melting into one another, one endless blur of nothingness, funded by welfare payments and a small town that seems to be shrinking in on her. Escaping the monotony is becoming a matter of life or death.
Carla is beautiful and wealthy, and ambitious to the core. She's new in town to find a fresh start, and it doesn't take much effort to line up a suitable job, then partner and home. The question for Carla is, can a promising future cancel out a shadowed past?
Their lives couldn't be more different – but Esther, Cheryl and Carla will all discover that finding peace will come at a cost…someone might have to die.
The Lance by Alex Lukeman
Genre - Action / Adventure Thriller (R)
4.3 (9 reviews)
FREE

until 19th August 2012
In the frozen wastes of Antarctica the Lance, an ancient weapon of unthinkable power--once lost and legendary--has been recovered. In the terrorized streets of Jerusalem, devastation is unleashed upon the eve of international peace. In the halls of power of Washington, D.C. a desperate plot set in motion during the final days of World War II has begun to unfold. Now Nick Carter and his team of deep black operatives from the PROJECT must race against time to stop events that will lead to the next World War. But to do that they must first stop those who already wield the Lance.
Flying with Cuckoos by Michael Patrick Clark
Genre - Biographies & Memoirs (PG13)
4.7 (7 reviews)
FREE

until 18th August 2012
Flying with Cuckoos tells the true story of a journey of discovery, as a young and naïve Michael Clark leaves a desperately-unhappy adopted home, to join the armed forces, as a 'boy apprentice' before transferring into one of the most ill-disciplined and disreputable units in the British armed forces.
As the story unfolds, we follow his progress; from one-sided battles with school bullies in suburban England, to even-more one-sided battles with the S.A.S. in some of the world's most dangerous and exotic places; from the jungles of South-East Asia, and the bullet-scarred shacks of Gaddafi's 'new' Libya, through the tragedy of the war in Vietnam, and the hedonistic excess of swinging-sixties Bangkok and Singapore.
Funny, poignant, and at times outrageous, Flying with Cuckoos is a heart-warming story of hope and achievement, and the remarkable journal of a young man's battle to survive and overcome.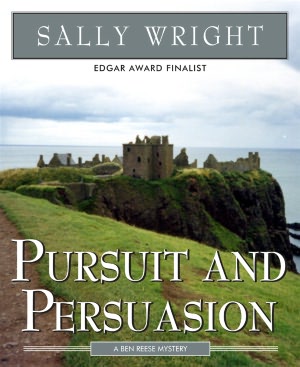 Pursuit & Persuasion by Sally Wright
Genre - Mystery (PG)
4.3 (9 reviews)
FREE

until 18th August 2012
Pursuit And Persuasion, (a 2001 Mystery Writers Of America Edgar Allan Poe Award Finalist) revolves around the secrets unearthed by Georgina Fletcher - a private, self-contained, contemplative Scotswoman, a widow, and an English professor at Aberdeen University. The day before she dies, she writes an alarming letter to her heir (the American daughter of her oldest friend) and arranges to have it posted in the event of her death.
"...I have reason to believe that my death was desired, planned and perpetrated with great care and deliberation. Even if I am right, the circumstances of my death will appear to have been brought about by natural causes..."
Georgina is anything but a fool, and it happens just as she'd feared. She's also punctilious and ethical, and won't name the person she suspects. Her assumptions are based on speculation, and she refuses to risk condemning any innocent person. She asks instead that her heir, Ellen Winter, hire a detective to investigate her death, free of her own prejudices.
Ellen is one of Ben Reese's archival apprentices at Alderton University, so she knows he's an ex-World War II Scout who's solved other murder cases and is in Scotland on sabbatical. She'd much rather ask Ben to help than use some unknown detective.