1st August to 31st August 2012
Updated on 27th July 2012
106 books from 100 authors
Page 1

>
Page 2

>
Page 3

>
Page 4

>
Page 5
>>>

Event Checklist & Updates
>>>Amazon Listmania ONE, TWO, THREE
>>>GoodReads Listopia
>>>
Kindle Fire Giveaway
(Free ebooks too!)
>>>Haiku Challenge with David Cooper
>>> First Lines with M Mancio
Sea Serpents, and Demons, and Trolls, oh my Even before Shadowhelm became embroiled in the fight of his life against the demon emperor Allarun in Prophecy of Swords, Shadowhelm was fighting on the side of good. Join his adventures as he battles slavers, sea serpents, trolls, shapeshifters, pirates and a very nasty demon in these five stories sure to entertain and delight all who love epic fantasy and sword and sorcery.
Genre - Fantasy
Rating - PG13 - no graphic sex.
Connect with MH Bonham on Facebook & Twitter
A Manhattan power couple survive a tragedy and attempt a fresh start only to be plagued by unexplained and disastrous occurrences...be careful what you wish for.
At the age of nine, growing up in the French countryside, Julien Grenier witnessed the brutal murder of his grandfather. Now, at forty-five, he continues to be plagued by horrific nightmares and reenactments of that tragic event.
Living a successful though austere lifestyle on the Upper East Side of Manhattan, Julien has recreated himself, building emotional walls that even his young wife cannot penetrate.
Though somewhat moody, Julien is a good man with a heart of gold, and a great sense of loyalty and responsibility; enabling his wife, Rachael, to turn a blind eye to his tightly-kept secrets.
Rachael is thirty-two years old; an art dealer and playful free spirit, but after a home invasion assault leaves her emotionally unstable and destroys their care-free and content world, they relocate to a safer environment with the hope of a fresh start.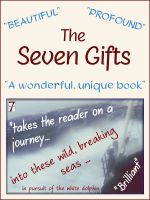 A reclusive outcast rock star heads a band of lonely misfits trapped in the pages of seven mysterious books locked away at the top of a remote seaside tower. Each cryptic story contains clues to a hidden gift that was bestowed on the Earth by its guardian. A young boy is commanded by an Angel to read and decipher these seven stories.
The stories transcend all worldly notions of normal, yet remain strangely matter-of-fact; and they challenge even this boy's view of reality as he struggles to unveil the gifts, and also the enigma of the Angel, and the secret of himself. When the boy finally closes the books the gifts are no longer hidden, and the characters no longer trapped; and he is no longer a boy.
Genre - Magic Realism
Rating - G
Connect with John Mellor

on his
a Rafflecopter giveaway