1st August to 31st August 2012
Updated on 27th July 2012
106 books from 100 authors
Page 1

>
Page 2

>
Page 3

>
Page 4

>
Page 5
>>>

Event Checklist & Updates
>>>Amazon Listmania ONE, TWO, THREE
>>>GoodReads Listopia
>>>
Kindle Fire Giveaway
(Free ebooks too!)
>>>Haiku Challenge with David Cooper
>>> First Lines with M Mancio
Kickapoo, Texas, is the last place Jolene Jackson wants to be, but with her 72-year-old mother's boyfriend murdered and Mother Dearest locked up because of it, she's got little choice but to head south and deal with it.
Bullets are flying, chicken's frying and there's a lunatic on the loose in the mesquites with a shotgun who's Hot Enough to Kill.
Genre - Mystery / Female Sleuth / Humourous
Rating - PG13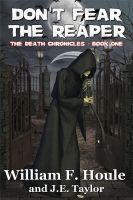 The day Nick Ramsay's eighth-grade teacher drops dead in his classroom, Nick sees his first reaper. When another cloaked figure appears at his grandmother's bedside, Nick issues an order for the vile creature to leave her alone.
This simple act of defiance creates a domino effect that brings Fate and Death to Nick's door and reveals his true lineage, throwing his world into chaos. To make matters worse, a group of rogue reapers declares war on humanity and Nick is the only one who can stop them.
Genre - YA Dark Fantasy
Rating - PG
Connect with William F Houle & JE Taylor on Facebook & Facebook
Wishing your life were different doesn't make it so. If you want to live a life that you truly love, it takes deliberate and soul-searching work to figure out what you really want, why you don't already have it and what you're honestly willing to do to get it. Like a best friend dispensing a little tough love, Paula Renaye wraps a sturdy arm around your shoulders, forces you to look in the mirror and says, "You can do this." And then with a simple and practical step-by-step process, she shows you how to discover what's been holding you back and how to turn those limitations into life-transforming choices.
Renaye combines engaging stories of her "dark times" and real-world experiences with concise, practical exercises that lead you to your own discoveries and insights. A guided coaching session pulls everything together, showing you how to define your dream life and map out how to get it. The book also includes detailed examples and instructions on how to create your own personal vision script and vision board and how to use them effectively and successfully. There's also a bonus chapter with tips on "what to do when you don't know what to do."
Whether it's a relationship, career, health or other challenge, you'll find the tools to stop tolerating what you need to change and start living a life you truly love.
Genre - Self-Help, Life Transformation
Rating - PG
a Rafflecopter giveaway