Tuesday, 4th September 2012
Readers - Please note that listed prices are accurate at the time of posting and are subject to change. Availability and prices may differ from country to country.
Authors -
If you would like your book(s) to be included in this daily listing,
please click
HERE
Demonworld by Kyle B. Stiff
Genre - Science Fiction
Rating - PG-13
4.7 (6 reviews)
FREE

until 5th September 2012
Demonworld is the first in a ten-book series that chronicles the life of Wodan, a son of laborers and heir to an amazing destiny.
Wodi grew up hearing tales of the outside world. Living in an isolated, technologically advanced city, it was hard to imagine that the rest of humanity suffered at the hands of sadistic, godlike monsters called flesh demons. Then Wodi finds himself exiled into the wasteland, victim of a death sentence handed out for no reason that he can understand. Moving boxes in his father's store and attending the local university did nothing to prepare him for the horrors that lay ahead.
Unfortunately for the ones behind his exile, the wasteland turns Wodi into a force to be reckoned with. His journey through baking, wind-tortured deserts and poisoned oases wakes something up inside of him, and Wodi learns that the human spirit has strength that few can imagine… and also comes equipped with terrifying weapons that those who crossed him cannot even begin to comprehend.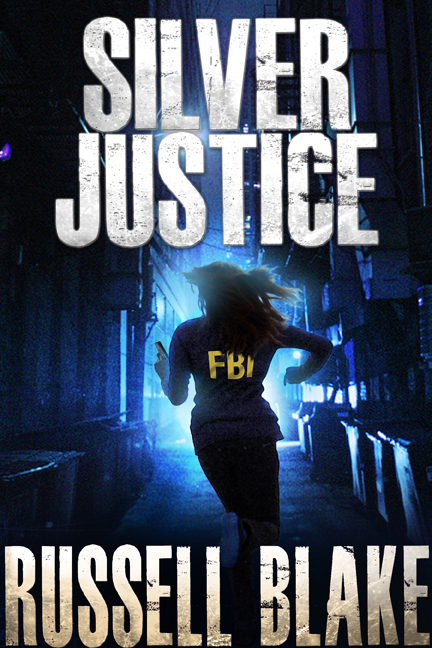 Silver Justice by Russell Blake
Genre - Action/Adventure
Rating - PG
5.0 (10 reviews)
FREE

until 5th September 2012
Manhattan. A ruthless serial killer is butchering financial industry high rollers. FBI Special Agent Silver Cassidy, the head of a task force that's on a collision course with disaster, finds herself fighting impossible odds to stop the murderer before he can kill again. Struggling to balance the hunt for a savage predator with the challenges of being a single parent, Silver finds herself thrust into a nightmare of brutality that will demand every ounce of determination she possesses to survive.
Elizabeth's Daughter by Thea Thomas
Genre - Paranormal Romance
Rating - PG
3.8 (6 reviews)
FREE

until 4th September 2012
Excerpt From Elizabeth's Daughter:
Elizabeth climbed the back stairs to her bedroom. The house hovered over her, entirely too huge now that she lived alone. Everywhere she moved, she found the presence of Grandfather – some little item of his, or a faint scent of his aftershave, or a note written on the back of an envelope as was his habit. She'd never before realized how little of her there was in these rooms.
Muffled thuds, came from outside – she rolled the window half-way up to hear every pop and crackle of the fireworks at Disneyland in the near distance. The blue, pink, silver and gold sparkling, transient lights poured from the sky. All her life she'd watched the fireworks from her bedroom window.
As she stared at the fireworks through her reflection in the dark glass of the window, her face appeared to change – it became more full, her hair darker and straight. She couldn't even see her eyes for the glinting of dark-rimmed glasses, though she'd never worn glasses in her life.
Startled, she stepped back from the window. The strangest sensation ran through her body from head to toes. A muscle in her forearm began to jump. She turned on all the lights in her room and slipped into a nightgown. But she couldn't shake the image of that face – that was not her face – reflected in the window....
Dead on Demand by Sean Campbell & Daniel Campbell
Genre - Crime Thriller
Rating - R (contains strong themes of violence and sex crimes)
4.8 (10 reviews)
FREE

until 8th September 2012
DEAD ON DEMAND IS FREE FROM SEPTEMBER 4th to SEPTEMBER 8th!
He had the perfect life. Now he'll kill to get it back.
A career man, Edwin Murphy has always put more effort into his work than his family. Everything changes for Edwin when his wife files for divorce. On the brink of losing his home, his job and his little girl, Edwin orchestrates an intricate plan to eliminate his wife and regain his former lifestyle.
The police are baffled when bodies begin to appear all over London with no apparent connection between them. Inspector David Morton must think outside the box as he investigates the deadly web of deceit behind the murders.
(Approximately 80,000 words. Not suitable for children due to violent themes.)
The Church Choir: 10 Things Every Gospel Singer Must Know by Boomy Tokan & Charline "Neresa Maye" Tokan
Genre - Christian Living
Rating - G
4.9 (8 reviews)
FREE

until 6th September 2012
Church Choirs are one of the most important ministries in any 21st Century Church. They have the ability to affect the way a congregation worships; therefore it is vital that all members of a Choir are effectively functioning in a manner that pleases GOD. This book is a call to provide excellence in the area of worship leading by highlighting some of the aspects that are often missed or poorly executed. It should help any Church Choir to align itself to GOD's will, so that they can consistently deliver SPIRIT filled worship!
A DAY IN THE LIFE OF THE POINTLESS AND AVERAGE by Shelly Hammond
Genre - Inspirational
Rating - PG
5.0 (9 reviews)
FREE

until 5th September 2012
A short story that came to life from a dream.
Evan is just your everyday average guy, doing the same thing day in and day out. This short story takes you through his day to day routine breaking to reflect on the impact simple every day things can have on others, even when you are not aware of it. View Evans life from a perspective one rarely thinks about or gets to experience.