Kiss Me Quick Before I Shoot
Genre - Biographies / Memoirs
Kiss Me Quick Before I Shoot
is a memoir about magic: the magic of making films and the magic of finding true love. If you love movies and you're a romantic at heart, this is your dream book.
"For me, there is no more magical a professional endeavor than making films," says Guy Magar. With production work spanning over 100 credits from shorts to TV shows to feature films, Guy Magar's behind-the-scenes stories range from his first producer turning out to be a Mafia assassin, to shooting in Egypt for the original series
Battlestar Galactica
, to directing a grunting Mr. T on
The A-Team
, to almost decapitating a young Drew Barrymore, and coming close to derailing James Cameron's career (or slowing it down as he proved way too talented for anyone to alter his storied destiny!)
Kiss me quick before I shoot
was Guy's welcoming catchphrase to his wife Jacqui whenever she visited on-set, seemingly always just before he rolled cameras. And so this book is also about a deeper magic, the magic of finding your soulmate, your life partner.
But then, out of the blue, after 26 years into their marriage, Jacqui was diagnosed with leukemia. Guy put his film career on hold and his entire 24-hour life focus became to find the right, new cutting-edge treatment to heal Jacqui.
This book is about daring to dream...and making dreams come true. Join Guy on a wild and thrilling rollercoaster ride as he shares the behind the curtain reveal of a Hollywood directing career, the intoxicating highs of finding and sharing true love, and the sweet triumph of survival and healing, all rolled into a unique and engaging memoir read which will become a favorite to curl up with (hot chocolate required) and to recommend to all your friends.
The author behind the book
Guy Magar was nine years old when he left Egypt in 1958. His family immigrated to the U.S., where he grew up in Middletown, NY. Graduating from Rutgers University with a B.A. in philosophy, Guy began his film career at the London Film School.
Guy has over 100 film credits, including La Femme Nikita, The A-Team, Blue Thunder, The Young Riders, Hunter, and the daytime drama Capitol. He was nominated in 1995 for a Golden Reel award for his TV work on the series Nowhere Man.
Guy's film work includes 'Lookin' Italian' starring Matt LeBlanc and Lou Rawls (in their first feature film); Stepfather 3, and the cult thriller Retribution (look for it on DVD this year!). His most recent feature directing credit is Children of the Corn: Revelation, based on Stephen King's original story for Dimension Films.
Guy is the founder of the Action/Cut Filmmaking Seminars which provides 'page to screen' industry workshops. He's taught thousands of filmmakers at over 100 weekend seminars in the USA and internationally. He's also the founder of the Action/Cut Short Film Competition, which MovieMaker magazine called one of the 'Top 10 Shorts Festivals in the World for Filmmakers!'
Guy continues to provide consultancy services for directors, screenwriters, and private coaching for actors. Contact him at http://kissmequickbeforeishoot.com or http://actioncut.com.
Guy lives in the Hollywood Hills with Jacqui, his beautiful wife of twenty-six years.
Touchback by Don Handfield
Genre - Contemporary Fiction / Sport
FREE

until 4th September 2012
WHAT WOULD YOU DO IF YOU GOT A SECOND CHANCE?
When Scott Murphy scored the winning touchdown in the 1991 state championship game, it should have launched a golden future—the full scholarship to Ohio State, the million-dollar signing bonus, marriage to the beauty queen, and NFL glory.
Instead, it all ended with a sickening pop as his leg shattered in four places. The next twenty years would be a study in Murphy's Law—whatever could go wrong did. Just when things seem at their worst—he's losing his farm, his relationship with his wife is crumbling—a miracle happens: Murphy gets a chance to reboot his life.
Back in his teenaged body in 1991, he realizes by changing his past, he can have the future he always wanted. Everything he lost is within his reach, even his high-school sweetheart.
But what about the devoted wife he left behind? Torn between two women—two lives—he can only choose one future. Murphy must decide if getting everything he's ever wanted is worth giving up everything he's ever had…
The author behind the book
Don Handfield is an American author and filmmaker. He was born in Bloomington, Indiana in 1971, raised in Maine, Indiana, Virginia and Connecticut. He attended high school in Northern Virginia where he was captain of the wrestling team and a member of the state champion gymnastics team.
He has worked as a farmhand and a construction worker, and studied journalism and theater at The Ohio State University. Now a full time filmmaker and producer, he wrote and directed the feature film Touchback, starring Kurt Russell and Christine Lahti. He is currently writing and producing Slingshot for Paramount Pictures. Don lives in Los Angeles with his wife Tressa, and their two children.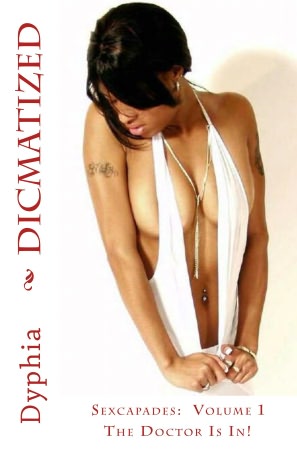 Dicmatized: Sexcapades Volume 1
Genre - Erotica
Rating - 18+
4.8 (21 reviews)
Dr. Lenese Stringfield Puts the "Sex" in Sex Therapy as she takes the profession by storm with her new and innovative techniques. Her seductive nature and sexy demeanor has her clients eating out of the palm of her hand; amongst other things. Lenese has loved once and lost. So, if she can't be with the one she loves; she will love the one she's with. But, amazing sex doesn't come without a price tag. Too bad life has a lesson to teach this freaky therapist! She will soon learn that Karma is the "one bitch" that has everyone's address. Fooling around with another woman's husband is dangerous, but falling in love with one can be deadly.
The author behind the book
Dyphia is a native of Smithfield, VA who currently resides in Newport News, VA. She began writing poems and was encouraged to write this book which was started in August 2011. Dicmatized is a Trilogy of Sexcapades Volume I about Dr. Lenese Stringfield; a marriage counselor specializing in Sex Therapy.