***Notice***
Thursday, 27th September 2012
Readers - Please note that listed prices are accurate at the time of posting and are subject to change. Availability and prices may differ from country to country.
Authors -
If you would like your book(s) to be included in this daily listing,
please click
HERE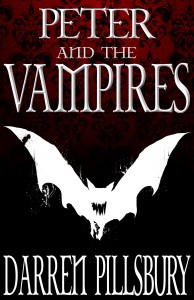 Peter & The Vampires by Darren Pillsbury
Genre - Fantasy
Rating - PG
4.8 (44 reviews)
FREE

until 30th September 2012
When ten-year-old Peter moves into his grandfather's creepy old mansion in a small town, bad, baaaaad things start to happen.
A family of charred boogeymen who haunt the garden decide they don't like trespassers...
A classmate with a crush comes back from the grave and decides to make Peter her Undead Prince Charming...
A creature from Fairieland changes place with Peter's two-year-old sister, leading to a VERY strange babysitting job...
A prehistoric predator snatches children from the town lake, forcing Peter to literally dive into the belly of the beast...
With his troublemaking neighbor Dill, his grumpy grandfather, and only his courage and wit to guide him, Peter has to survive all these things, plus the Greatest Horror Of All:
Fourth grade.
Out of the Shadow by JS Winn
Genre - Mystery & Suspense
Rating - PG15
4.8 (10 reviews)
FREE

until 28th September 2012
Out of the Shadow tells the story of two women drawn together in the present to uncover a crime from the past
Having survived a rape and her husband's murder, all Becca Rosen wants to do is move on with her life, but how can she when she's being stalked by a psychopath with an attitude---and an agenda. The police are no help because they're convinced, with her history of mental illness, Becca has faked the rape to get away with murder. On top of that, Becca has begun to have flashbacks and nightmares of childhood abuse, possibly at the hands of the rapist. Not knowing where to turn, and feeling like she might go crazy again, Becca hires Psychologist, Sarah Abrams, to help her unearth who's behind the crimes of the past...and the present.
Three men come into Becca's life around the same time. While each of these men has his charms, Becca can't be certain whether any one of them is the real killer. Or could it be someone else? Together Becca and Sarah start on a course of hypnotherapy to discover the abuser's identity. Will their work reveal the real killer before it's too late, or will Becca once again fall prey to this demented criminal?
Amanda's Eyes by Kathy DiSanto
Genre - SciFi / Paranormal
Rating - PG13
4.8 (12 reviews)
FREE

until 28th September 2012
Waking up is the pits when you come to in a hospital with a broken arm, a colorful assortment of abrasions and contusions, and a face swathed in bandages. It's even worse if you can't remember what hit you.
The bad and the ugly are crime reporter Amanda "A.J." Gregson's business. But learning she had a ringside seat for an explosion that killed two agents of the Continental Intelligence and Investigative Service (CIIS), incinerated an entire block of warehouses, and did so much damage to her eyes they had to be surgically removed? Well, that gives the darker side of life a whole new meaning.
Haunted by elusive nightmares, A.J. waits for her transplant and struggles to remember the events leading up to the fateful night of September 4, 2075. Weeks crawl by without a glimmer, before memory floods back the night before surgery, every brutal detail crystal clear.
The explosion had been the work of the Ferrymen.
"The Ferrymen. My not-so-magnificent obsession for more than a year. Only a cataclysm could have made me forget. I guess you could call them hitmen. You could also call Einstein a math whiz. Think ruthless. Think unstoppable. Think killers so proficient 'caught the ferry' was fast replacing 'bought the farm' in common usage, and you have the Ferrymen in a nutshell."
The transplant surgery goes off without a hitch—welcome news, because A.J. is raring for a rematch with Hell's Boatmen. But contrary to popular belief, what you see isn't always what you get. Take her new eyes, for example. Those baby blues may look perfectly normal, but they possess a power that turns her world upside down—the power to see into the hidden dimensions of the human heart.
When the Sight unmasks the mastermind behind the Ferrymen, the unveiling is as stunning as it is unbelievable. The revelation sets her on course for a second head-collision with evil. Will she survive the final encounter?
Stepping Stones to Greater Resilience by Marquita Herald
Genre - Self Help / Motivational (G)
4.9 (8 reviews)
FREE

until 28th September 2012
Resilience is that trait that empowers us to not merely manage life's inevitable challenges and detours, but to bounce back stronger than ever. It's about having the willingness to pursue stretch goals, the courage to get up when you've been knocked down, and the tenacity of spirit to embrace all that makes life worth living.
To regard adversity as an opportunity for personal growth may seem idealistic; especially in the midst of typically overloaded schedules and the noise and stress of everyday living … but the hard truth is that from time to time we are going to stumble; encounter unexpected detours, and fail. No matter how much we try to outrun or sidestep adversity, it's going to happen. The question then becomes not how to avoid obstacles, but how to use them to our advantage.
The good news is that research has proven that resilience is not a genetic gift for the lucky few. It is a set of skills that can be practiced and mastered over time. Stepping Stones to Greater Resilience is a self directed learning guide to help you strengthen the characteristics that enable you to avoid getting sidetracked by life's inevitable challenges and thrive as a result of the experience.
Live from the Road by PC Zick
Genre - Contemporary Fiction
Rating - PG13
4.6 (18 reviews)
Meg Newton and Sally Sutton seek a change in the mundane routine of their lives. "Is this all there is?" Sally asks Meg after visiting a dying friend in the hospital. That's when Meg suggests they take a journey to discover the answer. Joined by their daughters, they set off on a journey of salvation enhanced by the glories of the Mother Road. Along the way, they are joined by a Chicago blues man, a Pakistani liquor store owner from Illinois, a Marine from Missouri, a gun-toting momma from Oklahoma, and a motel clerk from New Mexico. Meg, mourning for her dead son, learns to share her pain with her daughter CC. When Sally's husband of almost thirty years leaves a voice mail telling her he's leaving, both Sally and her daughter Ramona discover some truths about love and independence.
Live from the Road takes the reader on an often humorous, yet harrowing, journey. Death, divorce and deception help to reveal the inner journey taking place under the blazing desert sun as a Route 66 motel owner reads the Bhagavad-Gita and an eagle provides the sign they've all been seeking. Enlightenment comes tiptoeing in at dawn in a Tucumcari laundromat, while singing karaoke at a bar in Gallup, New Mexico, and during dinner at the Roadkill Café in Seligman, Arizona. The four women's lives will never be the same after the road leads them to their hearts – the true destination for these road warriors.
Brood of Bones by AE Marling
Genre - Dark Fantasy
Rating - PG13
4.7 (49 reviews)
One unexpected pregnancy is a drama; fifty thousand is citywide hysteria. Cursed with endless drowsiness, Enchantress Hiresha sleeps more than she lives. Since she never has had a chance to raise a family, she sometimes feels like every woman is pregnant except for her. This time, she is right. From virgin to grandmother, all the women in her city have conceived.

A lurking sorcerer drains power from the unnatural pregnancies, and Hiresha must track him by his magic. Unfortunately, her cultured education in enchantment ill equips her to understand his spellcraft, which is decidedly less than proper. The only person uncivilized enough to help is the Lord of the Feast, a dangerous yet charming illusionist. Associating with him may imperil Hiresha's city, yet refusing his help will allow the sorcerer to leech godlike power from the mass births.
Fluke by Bart Hopkins & David Elliott
Genre - Contemporary Fiction (PG13)
4.6 (15 reviews)
FREE

until 29th September 2012
Adam Fluke is a regular guy. He wants love, friendship, and happiness. However, his bumbling-but-good-natured tendencies have left him lacking direction in life. Content with his lack of motivation, he earns a meager living as a pizza delivery boy.
Everything changes one night, though, on a medium cheese pizza delivery to Sara DuBeau.
Sara is interesting, intellectual, fun, and successful: everything Adam believes he is not.
An unexpected, whirlwind relationship begins, and it's a match made in heaven.
Or is it?
Their storybook happiness is called into question by the discovery of a mysterious, buried-away photograph of a man with an uncanny resemblance to Adam.
Secrets are revealed, the search for answers begins, and Adam's very identity is suddenly the one thing that could tear them apart.