Readers - Please note that listed prices are accurate at the time of posting and are subject to change. Availability and prices may differ from country to country.
Authors -
If you would like your book(s) to be included in this daily listing,
please click
HERE
Joe Cafe by JD Mader
Genre - Crime Noir (R)
4.7 (53 reviews)
The murder at Joe Café is an abomination. It stops the entire universe. For Michael, it tarnishes everything, including his badge. For Chet and his hostage, it is the beginning of a chase that will lead them through dingy motels and the darkest corridors of their minds. Dogan just wants Sara back. Jimmy the Cat wants to make up for all the time he has wasted. Frankie wants to live a 'moral' life, erasing everyone in his path who does not live up to his standards.
Conventional notions of good and evil quickly blur as they are all forced to look into the mirrors they have avoided for so long. Chilling and horrifying, whimsical and wretched, Joe Café's cast of broken characters try to find their way in a world they never understood to begin with...for the Chens, it is easy. They are dead.
Seed Saving Tips & Techniques by Julie Turner
Genre - Gardening (G)
4.2 (8 reviews)
Most keen gardeners decide at some stage that they want to save their own seed. Raising your own seedlings is
extremely satisfying
. I still find it so exciting and heart-warming when I grow beautiful, healthy plants from seed that I have collected myself. Watching a seed germinate, become a seedling, and then mature gives me such joy and deep satisfaction. It is witnessing and participating in the miracle of life!
I want to share with you how to
save yourself a small fortune
by collecting your own seeds and saving them for the next gardening season. This is a guide to getting the best results when saving your own seeds.
A Friend Like Annabel by Alan Davidson
Genre - YA Lit / Humour
(PG - recommended for ages 10 to 16)
5.0 (4 reviews - Amazon UK)
Adored by her best friend Kate, barely tolerated by adults and considered by some of her less imaginative school mates to be off her head, thirteen-year-old Annabel Fidelity Bunce is a truly original comic creation.
Fluent reading ability [and a well developed sense of humour!] is required for these YA short stories which contain no sex, no bad language [and of course no violence because Annabel hates violence] --- just lots of good clean fun.
Third Time Lucky by Steve Spencer
Genre - Mystery & Thriller (PG13)
5.0 (3 reviews)
FREE

until 10th July 2012
When news analyst and special assignment reporter Paul Mallory finally gets offered an overseas gig he actually wants, he's suspicious...but not suspicious enough to turn it down. Not when the job involves going to Riga, Latvia to cover the greatest chess tournament of all time, and certainly not when the leading player is 18-year-old phenom Anna Berzina, whose photo shoots in Sports Illustrated and Maxim reveal her to be far more than just another beautiful mind.
If only that was all there was to it. But Latvia's on the brink of civil war, pending the outcome of a January referendum that may see them reunited with a revivified Soviet Union; and when Paul gets caught up in some activity far from the 64 squares of the chessboard, he once again must choose between following orders and following his instincts...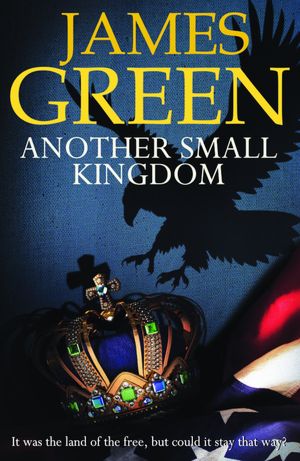 Another Small Kingdom by James Green
Genre - Historical Thriller (PG13)
5.0 (1 reviews)
FREE

until 12th July 2012
America was the land of the free - but could it stay that way?
James Green uses fictional characters to illuminate the real events that lead to the birth of the American Intelligence Services and culminated in the extraordinary Louisiana Purchase, which doubled the size of the USA – at the cost of 3 cents an acre.
Packed with action and fascinating historical detail, Another Small Kingdom will appeal both to those interested in the history of the USA and to aficionados of intelligent spy thrillers.
Boston, 1802, Lawyer Macleod is a man full of hate, a dangerous man. When a newly arrived young lawyer is mad enough to insult him, the consequences spin out of control and Macleod is caught up in a web of danger and intrigue.
With England at war with France, some powerful Americans feel that the USA's best chance of remaining independent is to throw in their lot with France– even if it means accepting a French king – for a while.
To counter their plot, Macleod is sent toNew Orleans, where he meets Marie, wife of Etienne de Valois, aristocrat and fop, and through her learns a terrible secret.
Together, unable to trust anyone, they race to uncover the traitors at the heart of the American Government.
James Green is well known as the author of the Jimmy Costello crime series, the first book of which, Bad Catholics, was short-listed for the 2009 Crime Writers Association Dagger Awards.