Readers - Please note that listed prices are accurate at the time of posting and are subject to change. Availability and prices may differ from country to country.
Authors -
If you would like your book(s) to be included in this daily listing,
please click
HERE
Rotten Apple by Natasha A Salnikova
Genre - Suspense / Thriller (PG13)
Price - $0.99
Alexander Tallman enjoys life to the fullest. He has his own advertising company, a few girlfriends and a perfect wife, who is so naïve she doesn't even notice her husband's multiple affairs. But, one day, Alexander meets Karen. The woman is five years older than he and she wants to marry Alexander instead of letting him go, as others did. She doesn't want to give up; she wants Alexander to belong to her and only her. Alexander finds a reason for leaving that he thinks is good enough for Karen – his wife is pregnant.
He obviously can't leave her now (except she's not). He hopes it will bring them to the finale of the relationship. He just doesn't know how far a woman in love can go, a woman who was betrayed. When Karen finds out that Alexander wants to break off their relationship she doesn't step back, but takes the reins of fate into her own hands. She decides to fight for her love no matter what the consequences. But everything turns out differently than she had expected and she becomes a marionette in somebody else's game.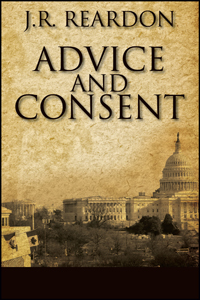 Advice and Consent by JR Reardon
Genre - Mystery & Thriller (PG13)
Price - $5.90
When those we trust betray us, where do we turn?
United States Supreme Court Justice Sean McNaught, the crucial swing vote on a divided court, has decided to retire. It is up to President James Cotson to find his replacement. The President's search is plagued with problems as his first two nominees are rejected. Worse, a wave of terrorist attacks targeting Supreme Court Justices and members of Congress shock the nation. During this national crisis, 13-year-old Angelica Hernandez sits in the courtroom of Judge Rebecca Tameron in the Federal District Court of Vermont, waiting for the sentencing of Gedof Maradon, the man who brutally attacked her.
Maradon fails to appear at his sentencing, and Angelica, who knows more about his crimes than she has told, is in grave danger. Reardon's latest thriller once again sends Rebecca up and down the East Coast, this time in a desperate attempt to protect an innocent young girl as well as the lives of the country's highest officials. How can she protect Angelica? What secrets does Angelica know? More importantly, how can Rebecca possibly protect anyone when her own family is in danger?
Ghost Worker by A Rosaria
Genre - Mystery & Thriller (PG13)
Price - $2.99
Brian is a happily married man, working a mundane job as a paper pusher. This changes after he's kicked out of his home after a heated argument with his wife. Left with unanswered questions, he wants to confront his co-worker Tom about his alleged dealings with his wife. However, it may not be as easy as Brian would like: everybody at the office claims to have seen him, but it has been weeks Brian saw him last.
In his search to solve the mystery of Tom's absence and finding answers to his questions, Brian stumbles on more trouble than he expected; a job deadline, a weird intern, and an unexpected turn of events.
Will he ever get the closure he seeks? Or is his destiny set in doom?