Wednesday, 11th July 2012
Readers - Please note that listed prices are accurate at the time of posting and are subject to change. Availability and prices may differ from country to country.
Authors -
If you would like your book(s) to be included in this daily listing,
please click
HERE
The Disappearance of Chris Grant by Kimberly Richards
Genre - Action / Romance (R)
4.6 (8 reviews)
Suave and wealthy, Christopher T. Grant is every woman's dream. A generous lover, he moves between women with ease and grace, leaving them heartbroken but still in love. Caught in a love triangle, Chris manages to successfully balance his life between his lover, Jessica and his best friend, Sarah.
Suddenly, Chris goes missing and in the desperate attempt to find him, a … plot begins to emerge. Throw in a bloodied knife and secret bank accounts in Luxembourg, a fast paced tale unfolds. This is a 'whodunit' with a twist.
The Wander Year by One Couple's Journey Around the World by Mike McIntyre
Genre - Travel Memoir (G)
3.6 (14 reviews)
FREE

until 13th July 2012
Mike McIntyre and his longtime girlfriend, Andrea Boyles, are in their early 40s and itching for a break. So they rent out their San Diego home--dog, cat and furniture included--and embark on a yearlong journey around the world. "We're not out to find ourselves, or even to lose ourselves," McIntyre writes early on. "We're merely seeking a pause in our routines." But the couple is soon swept up in the adventure of a lifetime: trekking in the Himalayas, traversing the Sahara on camel, scrambling over the temples of Angkor, crossing the world's largest salt flat in South America, scaling a New Zealand glacier.
The book recounts the odyssey in 48 dispatches from 22 countries. Among them: birdwatching in Indonesia, a haircut from Vietnam's oldest barber, touring a notorious prison in Bolivia, haggling over rugs in Morocco, on safari in Nepal. McIntyre taps his self-deprecating humor to convey the joys, perils and frustrations of prolonged travel. When the couple ventures into a cyclone in Fiji on a rubber raft, he writes, "The absence of life jackets and paddles meant more room for our lunacy." And during a ride across India with a hired car and driver, he notes, "His passing technique was so precise, I could see my horrified expression reflected in the chrome bumpers of onrushing trucks."
He also writes eloquently of such poignant moments as sleeping under the stars in North Africa, flying kites with a poor boy in Bali, and the death of a female tour guide in China. By journey's end, he's shucked much of his journalist's cynicism, and he stands in awe of a staggeringly beautiful world and the resilient souls who fill it.
The Wander Year
is based on the popular series of the same name that ran in the Travel section of the
Los Angeles Times
. It includes an excerpt from the author's first travelogue,
The Kindness of Strangers: Penniless Across America
.
The Scavenger's Daughter: A Tyler West Mystery by Mike McIntyre
Genre - Mystery / Thriller (R)
4.6 (37 reviews)
FREE

until 13th July 2012
Disgraced newsman Tyler West is desperate for a scoop that will save his career. When he investigates the baffling deaths of several of San Diego's elite, he uncovers a common link: torture devices not used since the Dark Ages. Plunged into a mysterious world of medieval torture scholars, antiquities collectors and sadomasochists, he must break the brilliantly conceived series of slayings that has cast a dark shadow over a city better known for its sun, sand and surf.
The elusive killer goes by the name Friar Tom, in tribute to his hero, Tomás de Torquemada, the first Grand Inquisitor of the Spanish Inquisition. As Ty scrambles to unmask the monstrous zealot, he is drawn into a lethal game of cat and mouse that could cost him everything.
The Kindness of Strangers: Penniless Across America by Mike McIntyre
Genre - Travel Memoir (PG13)
4.4 (65 reviews)
FREE

until 13th July 2012
As featured on Oprah,
The Kindness of Strangers
is the story of one man's continental leap of faith--and the country that caught him.
Stuck in a job he no longer found fulfilling, journalist Mike McIntyre felt his life was quickly passing him by. So one day he hit the road to trek from one end of the country to the other with little more than the clothes on his back and without a single penny in his pocket. Through his travels, he found varying degrees of kindness in strangers from all walks of life--and discovered more about people and values and life on the road in America than he'd ever thought possible. The gifts of food and shelter he received along the way were outweighed only by the touching gifts of the heart--the willingness of many he met to welcome a lonely stranger into their homes...and the discovery that sometimes those who give the most are the ones with the least to spare.
Includes an extended sample from the author's second travelogue,
The Wander Year: One Couple's Journey Around the World
.
The Tylenol Mafia: Marketing, Murder and Johnson & Johnson by Scott Bartz
Genre - US History (PG)
3.7 (38 reviews)
On September 29, 1982, seven people in Chicago died after taking Extra Strength Tylenol capsules laced with cyanide. Officials have long cited the scarcity of physical evidence and apparent lack of motive to explain why they never solved the Tylenol murders. However, new revelations and information not previously disclosed tell a very different story of a crime that should have been solved.
In a story both fascinating and dramatic in its warnings, The Tylenol Mafia rips away the facade of an investigation that J&J CEO James Burke labeled "A demonstration without parallel of government and business working with the news media to help protect the public." This gripping, meticulously documented expose' unearths the troubling details of an investigation corrupted by well-connected corporate executives and politically motivated government officials who simply buried the truth inside a shadow legal system inaccessible to everyday Americans.
Thrall: Daughters of Lilith by Jennifer Quintenz
Braedyn is a normal girl just trying to survive high school with her two devoted friends, Royal and Cassie. Together they're doing a pretty good job of shrugging off the slings and arrows cast their way by the popular crowd when a new boy, Lucas, moves into the house next door. Suddenly Braedyn finds herself falling in love for the first time.
But as her sixteenth birthday approaches, Braedyn discovers humankind is at war with the Lilitu, an ancient race of enticing demons that prey on human souls. Her father is a member of the Guard fighting against the Lilitu - and so are the new neighbors, including her crush, Lucas.
As her world starts to unravel at the seams, Braedyn learns the right answers aren't always clear or easy. And as for "good" and "evil" – it all depends on how we choose to act.
Inspired by the ancient Mesopotamian myths of Lilith and her offspring, Thrall explores first love, strong friendships, and taking on adult responsibilities against the backdrop of powerful supernatural forces and life-and-death stakes.
Buddy the Rat by BM Hodges
Genre - Young Adult (PG)
4.6 (5 reviews)
FREE

until 12th July 2012
An innocent rodent subjected to fickle fate.
Sent to a house filled with the worst of humanity.
Escaping and finding solace in a forbidden love.
Yet peace will not be had.
Onward he travels...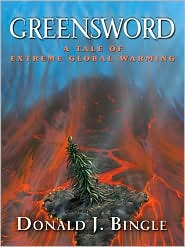 Greensword: A Tale of Extreme Global Warming by Donald J Bingle
Genre - Thriller (PG13)
4.5 (8 reviews)
FREE

until 14th July 2012
They're about to save the world; they just don't want to get caught doing it.

Zeke, Milo, and Brandon are struggling to keep their environmental protest group, GreensWord, alive. It impresses chicks and sure beats getting jobs as corporate serfs in the real world. But their chief benefactor, movie star Matthew Barrington, threatens to cut off funding unless they stop global warming before his Malibu beach house slides into the storm-tossed ocean. In their desperate effort to save the beach house and their organization, the GreensWord trio is willing to try almost anything. No plan is so illegal, so risky, or so stupid that they won't lend it an ear. But nothing is fast enough to stop global warming in time ... until they think of the unthinkable solution.

And although they may be crazed fanatics, they've watched enough T.V. to think they know exactly what to do to foil any investigation of their noble crime. And if their drastic solution to global warming means they also take out the reigning internet tycoon and his monopolistic software company, that's just organic frosting on the vegan cake.

One person can make a difference in the world. Of course, three people with a plan to stop global warming overnight can make a big difference.

GREENSWORD is a dark comedy about the environment, extremism, stupid criminals, and the lengths to which people will go to avoid getting a real job.