Readers - Please note that listed prices are accurate at the time of posting and are subject to change. Availability and prices may differ from country to country.
Authors -
If you would like your book(s) to be included in this daily listing,
please click
HERE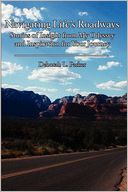 Navigating Life's Roadways: Stories of Insight from My Odyssey & Inspiration for Your Journey by Deborah L Parker
Genre - NonFiction / Memoir (PG13)
4.6 (10 reviews)
How do we best maneuver life's roads, paths or journeys; so often paved with the travails and triumphs of a barrage of daily evolving circumstances? Do we always know the directions or map to our true north? Is there an IPS (Internal Positioning System) to guide us? In Navigating Life's Roadways, Deborah L. Parker takes you on a very personal voyage while engaging you with creatively written metaphors of her life's map of twisting roads, paths, and journeys.
Ride along as Parker insightfully and inspirationally navigates the elements of family, relationships, career, faith, health or fun. Learn, cry and laugh with her, as you find yourself exploring the lessons of your own destinations while identifying with her heartfelt narratives. Meet the core people who've journeyed with Parker or put up roadblocks. Transit her phases of humbly growing up in a Civil Rights era rural Virginia town, then launching out on pursuits as an army officer, corporate manager and entrepreneur in the story Belief Boulevard, while you experience her setbacks and eventual arrival back to her true north spirit in Valley View.
Sharing the warmth and variety of stories found in the renowned Chicken Soup for the Soul series, Parker's artful accounts of her treks through mountains and pits feeds the reader's spirit (even throwing in the chicken). This book will guide and encourage you on your smooth or rough roadways ahead.
Fearlings Two by Michael Edward
Genre - Horror (PG13)
5.0 (3 reviews)
FREE

until 31st July 2012
In the world of Fearlings, there is little knowledge of what their reason and purpose is. They travel to our world through the shadows of darkness. Some Fearlings are protectors of their human counterpart and others are attackers.
The humans, known as Vauns, seek out answers and are constantly trying to increase their knowledge, but they do not know everything. They know that they can be attacked and taken like many of their loved ones from the past. They also know that they are never truly safe.
30 Delicious Refrigerator Cake Recipes by Lori Burke
Genre - Cooking, Food & Wine (G)
4.6 (33 reviews)
FREE

until 31st July 2012
Make mouth-watering, delicious cakes that require little to no baking in an oven! Best-selling author Lori Burke brings you 24 Refrigerator cakes that are fun and easy to prepare. In addition she includes recipes for 6 Refrigerator Poke cakes that require minimal baking but are fun to make and so delicious. That's a total of 30 crowd-pleasing recipes! If you love desserts that melt in your mouth and make you go "Mmmmmm" then this is the book for you!
Living Lies by Kate Mathis
Genre - Romance / Action & Adventure (PG13)
4.1 (34 reviews)
FREE

until 1st August 2012
Meet secret agent Melanie Ward, who quits the spy game, after 10 years, when a justly earned promotion is snatched away by her nemesis, the arrogant and smug, Son-of-a-Senator, Agent Finn Parker.
Melanie moves back home with her parents in La Jolla, where her mom, with the help of Melanie's collage roommates, sets her up on a marathon of comical blind dates (is there another kind?). Romance finally finds Melanie when she meets Adam, the tall dark and mysterious chef. She falls in love, but life once again becomes unstable when Melanie decides to return to the Agency.
WARNING: This tenacious spy is a serious threat to ruthless people, who will stop at nothing to have her eliminated. Which leads this tale of intrigue and love to a climatic ending that will leave you wanting more...
Speed Dating with the Dead by Scott Nicholson
Genre - Thriller (PG13)
4.3 (63 reviews)
FREE

until 31st July 2012
When Digger Wilson brings his paranormal team Spirit Seekers International to the White Horse Inn, he is skeptical that his dead wife will keep her half of the bargain. He doesn't believe in ghosts, and just before she died, she promised to meet him there.
But when one of the conference guests channels a mysterious presence and an Ouija board spells out a pet phrase known only to Digger and his wife, his convictions are challenged.
And when guests start to disappear, Digger and his daughter Kendra must face the circle of demons that view the hotel as their personal playground. Because soon the inn will be closing for good, angels can't be trusted, and demons don't like to play alone . . .
Not Just For Breakfast Anymore by PV Lundqvist
Genre - Children's Book (G)
4.0 (9 reviews)
FREE

until 31st July 2012
Benny wants a pet—a dog or a cat. You know, the kind of pet everyone else has. But other kids don't have his mom. She likes to do things differently.
So Benny doesn't know what to expect when he first opens the pet carrier. Certainly not that his neighbors will want to kick is family out of town—he just got here! And he was just about to make the baseball team, too.
Will he fight for his pet or back down?
The Morning After by Sally Clements
Genre - Contemporary Romance (NC17)
4.0 (9 reviews)
FREE

until 1st August 2012
One photo changes everything...
A mortifying incident in her youth has shaken sense into Cara Byrne. No more bad-boys. No more getting arrested. Instead, hard work and good behaviour has earned her a job teaching at the local Boys Secondary School, and a proposal from a worthy man. So what if he doesn't exactly light her fire - surely passion is overrated?
When her friend since childhood, Ethan Quinn, storms back into the small Irish village he left to pursue a career as a Hollywood action hero, she's stunned to discover she's as susceptible to his lethal charm as every woman in the world. And when a compromising photograph floods the media of them in a clinch, her almost fiancé reveals his true colours, CarEthan starts trending on twitter, and she loses her job, could anyone blame her if she accepts his invitation to hide out at his Malibu beach house?
Ethan loves women, but never lets his girlfriends into his heart. He's failed at being there in the past, and won't put his heart on the line for anyone, ever again. But Cara's a different matter - and when passionate attraction is added to his friendship with the one person he's always confided in, he's thrown for a loop. Cara's lost everything, and like it or not, he's responsible. There's no fighting the attraction that blazes between them - but when the month long affair is over, will he ever be able to let her go?
Bound By Blood by Tara Manderino
Genre - Paranormal Suspense (PG)
3.5 (22 reviews)
FREE

until 2nd August 2012
In his two-hundred and fifty years as a vampire, Alex only observed, never intervened with any of his progeny, yet what else can he do when a little girl of his lineage is kidnapped? When he meets Lisa, the child's nanny, his protective instincts kick into gear, yet he finds he must expose her to ever increasing danger as they search for the missing child. To protect Lisa from perils she is unaware of, he harbors her in his own home.
With Lisa's help, Alex is able to determine who has the child. Learning why she was abducted rocks him on his heels and sets off a transcontinental search that leads to ancient myths of the Cardinal's Ruby; the stone in Alex's ring.
Alex and Lisa have one shot to save the child, but will they be able to stop the impending destruction raining down?
Jilly-Bean by Celia Vogel
Genre - Chick Lit / Young Adult (G)
4.1 (10 reviews)
Temperatures are rising and superstition reigns supreme.
Eighteen year old Jillian Crossland has her life planned out. Or so she thinks.
Despite her better judgement, a séance one evening sets a blueprint for disaster when fate
steps in and shakes up her plans and her life.
Jilly-Bean explores fears and superstitions as it relates to beliefs, religion and love.
Paramount by Nadia Scrieva
Genre - Dark Fantasy / Romance (R)
5.0 (4 reviews)
FREE

until 31st July 2012
Pax Burnson is the descendant of devas. She has vowed to live her life without practicing her powers, but recent events have overturned her entire existence. Thorn Kalgren has been the love of her life since she was fourteen
--
he helped her to heal after the loss of her parents. As a close family friend, he is one of a select few who understand and share her unique heritage. His recent betrayal has released a violence within her that she cannot restrain.
While her first instinct is to escape and forget, her aimless road trip is interrupted by a childhood friend in need. An idea strikes Pax as she sees her own pain reflected in Thorn's sister, Amara Kalgren. She is suddenly filled with a new, all-consuming purpose: vengeance. She believes there is nothing else left.
Using ancient magick and enlisting Amara's help, Pax orchestrates a complex, drawn-out plan to deceive and emotionally destroy her former lover. The friendship and loyalty between the two girls becomes fortified and unshakable as they venture down a dark and twisted path together, encountering formidable roadblocks and demons.
It soon becomes clear to Pax that everything she has been led to believe about her powers and her past was shaped by blatant lies. When she discovers that Thorn's infidelity is closely linked with her mother's death, she is forced to make a life-altering decision...
The Path to Tyranny by Michael E Newton
Genre - History (PG)
4.1 (40 reviews)
Western civilization is risking the return of tyranny by increasing the size and scope of government. Throughout history, free societies descended into tyranny when their populations realized they can use the power of government to give themselves benefits at the expense of others. The Path To Tyranny examines how and why each of these free societies descended into tyranny and evaluates the current prospects for the United States.
Angry Mobs & Founding Fathers by Michael E Newton
Genre - History (PG)
4.4 (10 reviews)
Angry mobs launched the American Revolution when they protested against British acts of tyranny. These rebels threatened, harassed, and chased away British officials and Loyalists. The Founding Fathers agreed with the goals of these Patriots, but not with their methods. Fearing anarchy, the Founders channeled the passion of the mobs toward independence.
Working together, the angry mobs and Founding Fathers defeated the mighty British army and won independence, but the new nation that emerged was anarchic and chaotic, much like the angry mobs themselves. Meeting behind closed doors, the Founding Fathers conspired to depose the Confederation government, wrote a new constitution, and created the world's most successful republic.
Angry Mobs and Founding Fathers
tells the little-known story of how these two groups fought for control of the American Revolution.