Readers - Please note that listed prices are accurate at the time of posting and are subject to change. Availability and prices may differ from country to country.
Authors -
If you would like your book(s) to be included in this daily listing,
please click
HERE
Messenger of the Dark Prophet by Trevor H Cooley
Amazon Kindle
Genre - Fantasy (PG13)
Price - $3.99
Justan's dream of entering the Dremaldrian Battle Academy has been put on hold. His burgeoning magic powers have been deemed too dangerous to go untrained and he has been sentenced to two years at the Mage School. How is he supposed to fit in amongst the mages and wizards, a physically weak group of people he has never identified with? Can he learn how to control his new powers without losing his identity as a warrior? Can he stick to his plans while the mother of the moonrats tries to destroy the school from within?
Fist, the ogre who was estranged from his own people, has now found a home next to a friendly human settlement while Deathclaw, the raptoid who was changed into humanoid form, has left his homeland in search of his destiny. They escaped the wizard Ewzad Vriil's grasp before, but his secret army grows as does his influence in the kingdom. What will they do upon coming face-to-face with The Messenger of the Dark Prophet once again?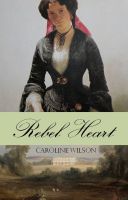 Rebel Heart by Caroline Wilson
Genre - Historical Fiction (PG)
Price - $3.99
Julienne Dalton's privileged existence is shattered when her family's plantation home is burned and her father murdered by Union soldiers. Desperate for justice, she reports to a Rebel spymaster after overhearing plans for a Union attack against the Confederacy. Drawn into a web of intrigue, she gleefully charms Yankee officers into giving away important secrets. But when she meets Alexander Caulfield, a charming British expatriate, Julienne begins to question her desire for vengeance. The visiting businessman is unlike any man she has met, for he seems captivated by her love of philosophy and chess. She is puzzled by his attentions and yet longs to be loved by him.
They marry after a hasty courtship and only then does Julienne discover that Alex has been harboring a dangerous secret. Heartbroken and fearing for her life, she escapes the country, bound for Europe. As she travels through England, Julienne discovers that the sickness plaguing her is something else entirely. She is forced to remain in a secluded village in order to protect the life of the child she carries, but remaining in her husband's homeland is dangerous for Alex could find her at any moment. And if he does—will it be to rekindle the brief passion they shared or to exact revenge for her treachery?
Heaven High by Anna Andrews
Genre - Fantasy & Magic (PG)
Price - $3.99
Delve into a world where Heaven meets High School.
When Beau and Edgar find themselves in Heaven they are given a choice: either stay and enjoy the Afterlife or work as Spirit Guides and help humans still alive on earth.
For one of them the choice is easy but for the other the decision is not so clear cut. And their decision to take an undercover assignment at East Lake High has repercussions that tests the limits of friendships, loyalty and the very existence of East Lake.
Heaven High takes you where no living soul has been to before.