Readers - Please note that listed prices are accurate at the time of posting and are subject to change. Availability and prices may differ from country to country.
Authors -
If you would like your book(s) to be included in this daily listing,
please click
HERE
A Matter of Degree by Beckie Henderson
Genre - Contemporary Romance (PG)
Price - $1.49
When Katherine Valletta starts her new job at Deerhampton University, it's clear that this is no normal workplace. Why has someone left an anonymous letter on her desk? Who is the arrogant woman who almost runs her down in that flashy sports car? And, most importantly, what is the story behind the handsome man whose arms she falls into on her way home?
As Katherine attempts to unravel these puzzles, her confidence and her self-knowledge grow, along with her relationships. She builds an unlikely friendship with Diana Woolf, Deerhampton's tough new Professor of History. Fred Morris, the Admissions Tutor with a penchant for gaudy ties and knitted tank tops, seems like a useful ally. While in the midst of all the mayhem, Maddie Rose is a voice of reason, supporting her colleague Katherine all the way.
And in the background hovers sultry Biology Lecturer Chris Burberry. The more Katherine sees him, the more she likes him. But what does he want? What's in his past? In fact, what does Katherine really know about him at all?
On the Nature of the Gods by Louis B Shalako
Genre - Science Fiction (R)
Price - $0.99
Jeb is one of the toughest men alive, and he demands respect. After a personal humiliation at the hands of the New York City police caused by a simple administrative error, he sets out on a trail of vengeance. In company with his intuitive horse Rooster, it leads him to the evil Dr. Schmitt-Rottluff, the gaslight era's virtuoso of illicit cloning and mind-bending manipulation of the human genome.
Rife with the bizarre juxtaposition of psycho-sexual elements, 'On the Nature of the Gods' is a superb parody of the steam-punk weird western with elements of bedroom comedy genre.
Undefeated in a hundred and thirty-eight bouts, Jeb Snead may be the toughest man in a totally plastic world. It's too bad he doesn't have much of a sense of humour and might even be a little insecure. Rufe Golan is the son of a rich man, a smooth-talker and an inveterate foot-fetishist.
Hope Ng, starved for attention or entertainment, is heading to San Francisco to live with her grandfather when her wagon train is massacred.
The buxom but leggy Miss Muriel Kitty, a professional working woman-cat-thing, and wise in the ways of the world, provides a valuable service in frontier society.
The evil Doctor Schmitt-Rottluff surrounds himself with willing tools and useful fools, some of them the product of a little too much inbreeding in test-tubes. Chapley, his alleged black nephew and Waylon, his acknowledged 'taurian son, Nazi gryphons, erudite Injuns who read Latin and mischievous spirits who just want to see what happens next, fill out a never-before-seen, all-star cast in Louis B. Shalako's killer debut in this genre.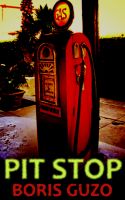 Pit Stop by Boris Guzo
Genre - Contemporary Fantasy (PG13)
Price - $0.99
Sometimes, things go wrong, and they stay wrong.
Glen takes a forced pit stop when his car runs out of gas. He is running away from the police, and has little time to find a new ride. There's a truck at the gas station, and he's confident he can negotiate for the keys.
However, it's not that easy to fool Tim. Especially when Marla gets in the way.