Readers - Please note that listed prices are accurate at the time of posting and are subject to change. Availability and prices may differ from country to country.
Authors -
If you would like your book(s) to be included in this daily listing,
please click
HERE
*** Today's Sponsor ***
The Seven Gifts by Sleepy John
Genre - Fantasy (PG13)
Price - As per author's website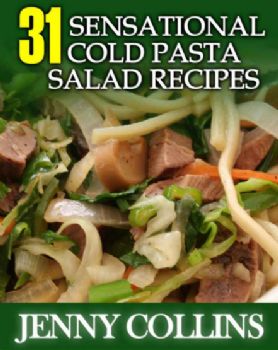 31 Sensational Cold Pasta Recipes by Jenny Collins
Genre - Cooking (G)
5.0 (10 reviews)
A delightful collection of cold pasta salad dishes, containing some unusual and tasty recipes along with some of the more traditional favourites.
Prepared with fresh ingredients these cold pasta salad recipes are great for any meal times from a quick lunch to a special dinner party dish.
They are also a firm favourite for any lunch box and are ideal to have at a barbecue or to take with you on a picnic.
These pasta salads are a great way to introduce children to fresh fruit and vegetables in an interesting way.
The majority of them are quick and easy to prepare, so why not get the children involved in the fun preparation teaching them how to prepare nutritious food at an early age can only be good for them.
Beach Living: 7 Popular Reasons People Move to the Beach by Anna Seger
Genre - Personal Transformation (PG)
4.8 (13 reviews)
Millions plan their summer vacations at sunny beach destinations. However, coastal living is a different matter. I have always dreamed of what beach life would be like for a permanent resident. Approaching the big 50, I decided it was now or never.
I started researching beaches. I thought anything is possible. So I started looking at coastal towns primarily in the United States. It was so exciting. I was looking at my computer screen making sounds as if I was eating a box of chocolates. The ooh...awe, oh my, this is my favorite, oh isn't this beautiful became common sounds.
I found there are many reasons for people moving to the coast. It isn't always just to swim in the waters, walk on the beach, snorkel or to simply listen to the waves crashing against the shore. I knew that I had enjoyed many of these activities when I visited the beach, but I never realized that these and other different coastal activities were some of the primary reasons others wanted to relocate to a beach town.
Seeing Julia by Katherine Owen
Genre - Contemporary Fiction (PG)
4.3 (58 reviews)
FREE

until 18th July 2012
Julia Hamilton's intent on building a life with Evan, looking forward instead of back. But then, Evan dies. A despondent Julia questions her ability to start over. Again. When she encounters Jake Winston, it leads to a connection neither one seems prepared for. Now, Julia battles grief, guilt, and heartbreak from her past--pain she thought she'd dealt with long ago. Her best friend insists this thing with Jake is a new beginning, but Julia remains uncertain. She questions the direction her life should take and fears the loss of so many may still define her. Faced with financial ruin, Julia turns to Jake for help, but soon discovers he has complications of his own. Then, she learns of a betrayal by the one person she thought she knew. A betrayal that leaves Julia questioning everything and everyone, herself, most of all.
This is contemporary fiction that explores one woman's journey, from the abyss that is grief, where she learns to start over to the discovery of who she is and who she loves in the process.
Seeing Julia
is an emotional read that will captivate readers with the novel's twists and turns in story line.
Avenging Annabelle by Mandy White
Genre - Mystery & Thriller (PG13)
3.9 (12 reviews)
How far would you go to protect the ones you love? For Jim Fraser, the line between right and wrong blurs when he sets out to find his missing daughter.
When Annabelle vanishes, Jim fears the worst. His fears are confirmed when Annabelle appears to him in his dreams, showing him things...things he doesn't want to see but must if he is to solve the mystery of her disappearance and have his vengeance on the one responsible
Time is running out. The next victim has been chosen - Annabelle's best friend Amy. Annabelle begs her father to keep Amy safe and Jim knows he must act immediately.
From Ashes to Honor by Loree Lough
Genre - Religious Fiction (PG)
3.6 (41 reviews)
If he had only answered that last phone call from the World Trade Center . . .
Minutes before two jumbo jets changed U.S. history, New York police officer Austin Finley ignored the call from his brother, who'd been bugging him for days. Trying to live with his one regret causes hatred and bitterness to consume Austin, and when counselor Mercy Samara recommends desk duty, Austin resigns. Haunted by her own memories of 9/11, Mercy takes a job as a school counselor in Baltimore. When Austin, now an EMT, responds to an emergency at Mercy's school, both are stunned and wary.
Finally their common—and painful—memories turn suspicion into friendship, then romance.
But hard questions linger: Can they truly move beyond their past harsh judgments and harsh words? Will their past finally bring them closer or—as the tenth anniversary of 9/11 draws near—drive them farther apart?