Readers - Please note that listed prices are accurate at the time of posting and are subject to change. Availability and prices may differ from country to country.
Authors -
If you would like your book(s) to be included in this daily listing,
please click
HERE
Age of Aether by Mark Jeffrey
Genre - Steampunk Romance (PG13)
Price - $2.99
When Captain Benjamin Bantam is tapped to go back in time in order to retrieve a cure for the vicious Shadow plague, he is shocked to arrive in an alternate 1944 where electricity doesn't exist. Instead, a parallel past has mysteriously arisen -- complete with parasols, stunningly luxurious Aerotels, hydrologic computing, Helux-powered 'cloud growlers' and a space elevator-based moon race with Germany. And of course, there is the lovely Dr. Rachelle Archenstone ...
But when Hitler is made Chancellor in this world and the American space program sabotaged, Bantam is the only one who realizes the true depth of the danger posed by the newly-formed Nazi party. Together with Rachelle, he races to save this America while seeking an explanation to the mystery of this alternate past -- and with it, a way to return to his own world with the Shadow's cure. But when it comes down to a choice between his lovely Rachelle and a thousand years of Nazi rule, what will he do?
The Desolate by Brian J. Jarrett
Genre - Mystery & Thriller (R)
Price - $2.99
When recently divorced Scott Stevenson moved to a small Missouri town to escape his rocky past, the last thing he expected was to find love again. He also didn't expect to discover a series of gruesome murders.
As the ghosts of his new lover's past begin to emerge, Scott believes one of them might be involved in the killings. As more more women are murdered and others begin to die around him, Scott soon finds himself a suspect. His drinking and paranoia return, threatening his tenuous mental stability. Now he no longer knows who he can trust – not even himself.
When the killer is finally revealed, no one is more surprised than Scott. And if anyone is to survive, Scott will be forced to confront truths about himself he's been hiding for years, truths that suggest he's not the person he thought he was.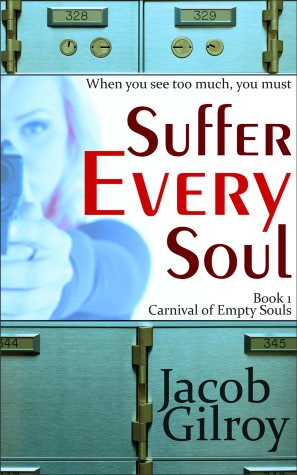 Suffer Every Soul by Jacob Gilroy