Readers - Please note that listed prices are accurate at the time of posting and are subject to change. Availability and prices may differ from country to country.
Authors -
If you would like your book(s) to be included in this daily listing,
please click
HERE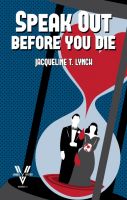 Speak Out Before You Die by Jacqueline T Lynch
Genre - Mystery & Thriller (PG13)
Price - $0.99
"Speak Out Before You Die", the second in the "Double V Mysteries" series reunites wealthy Juliet Van Allen and ex-con Elmer Vartanian on New Year's Eve, 1949. Guests are gathered in snowbound mansion for the wedding of Juliet's widowed father to an elegant younger woman just after the clock strikes midnight. When Juliet finds what appears to be a threatening note directed at her father, she calls Elmer to pose as a hired servant to help ferret out the danger…but midnight is approaching and time is running out. There may be murder as the old year dies.
The Old American Artist by Felipe Adan Lerma
Genre - Contemporary Romance (PG13)
Price - $2.99
A romance and an artist's story, how could it not be a love story?
We all love a story that shows how a loving pair, meeting obstacles in life, overcome that challenge, and resolve to love each other. But what happens during the "lived happily ever after" part? What are the details, what might the process be, achieving and living that post-crisis life?
This arc, from boy meets girl, boy loses girl, boy regains girl, morphs, in this first of three books, in the trilogy Triptych, into that fuller story of life, and love.
The Red Cross of Gold XXVII: The Centaur by Brendan Carroll
Genre - Mythology / Fantasy (PG13)
Price - $3.99
The Knight of Death is forced into a secret alliance with Abaddon, the Destroyer in his quest to rid the world of the Great and Horrible Queen of Babylon. Though the plan is a good one, the timing is terrible. The entire world is threatened with destruction from above as an errant celestial body takes aim at earth. Mark's mortal doppelganger places himself in grave danger attempting to divert the worldwide disaster from harming his precious Sophia.
Meanwhile, the rest of the Order and half the remaining powers in the world are disagreeing loudly about what should be done with the Ark of the Covenant. On top of everything, an unscrupulous Vatican official is working a plan which will place him at the top of the Papal See and give him the power he craves to rule the world from Rome.
Lemarik uses an Old Testament method for defeating the impending flood, the angelic warriors release their human comrades into even worse danger, the Tuathan healer lands in a world of trouble and even Abaddon cannot escape a terrible fate when he tries to befriend the Queen Mother in her lair.