Readers - Please note that listed prices are accurate at the time of posting and are subject to change. Availability and prices may differ from country to country.
Authors -
If you would like your book(s) to be included in this daily listing,
please click
HERE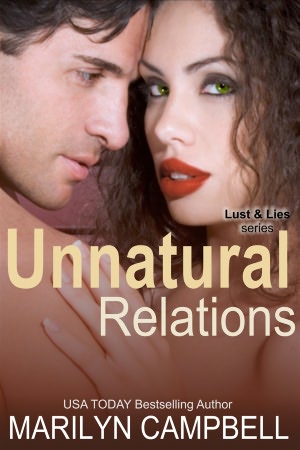 Unnatural Relations by Marilyn Campbell
Genre - Romantic Suspense Thriller (R)
Price - $2.99
After nine years on the run, Barbara Johnson believes she's finally safe. Safe with her little boy, in a new city, with a new name. Safe from the abusive man they've escaped and from the wealthy family with the power to take her child.
Then a savage twist of fate exposes her location. Now those wanting to see her suffer and steal her child are coming, with every trick of the law and every weapon of terror.
Determined to stand her ground, Barbara is swept off her feet by a handsome stranger who saves her from a mugger. The timing couldn't be worse for falling in love, but Kyle Trent is simply too perfect to push away, and she desperately needs someone in her life who makes her feel desirable again.
As the burning passion of the present converges with the nightmares of Barbara's past, new secrets arise to remind her no one can be trusted.
Jack Kursed by Glenn Bullion
Genre - Science Fiction (PG13)
Price - $2.99
The victim of a witch's curse, Jack has been awake for two hundred years. Unable to die, unable to sleep, he's trapped in a state of existence that no one can relate to, not even his vampire best friend Victoria.
Using his unique condition, he has helped Victoria in keeping the supernatural world at bay. Evil vampires, werewolves, and monsters have all died at their hand. But he's about to face his biggest challenge, eight-year-old orphan Tiffany.
Tiffany shows Jack a side of life he's never seen. A beautiful, hopeful world, where even someone full of rage and disdain for mortal life can find happiness.
However, when his new life and friends are in danger, Jack will unleash a fury two hundred years in the making.
The Seekers' Garden by Isa Ritchie
Genre - Religion & Spirituality (PG13)
Price - $4.99
Set against an idyllic New Zealand landscape, The Seekers' Garden weaves together five stories of self-discovery within a larger tapestry of human experience.
Leaving behind the fragments of her once perfect life, Marcia Reed-Wilton crosses the world to return to her dilapidated childhood home and dig up the weeds of the past. Next door, elderly Mrs. Everglade struggles to maintain her independence in spite of her increasing frailty. Near by, sixteen year old Lea escapes into her poetry in order to cope with depression. Meanwhile, Iris leaves her career on a whim to embark on an adventure of an entirely different kind; moving to a sleepy seaside town to write a book. On the other side of the world in opposite seasons, Zane, vocalist for a popular progressive band is haunted by cryptic dreams that lead him home.
A few twists of fate and a buried secret leave these individuals deeply and unexpectedly connected.
The Seekers' Garden gives voice to various experiences that challenge many of us, exploring our pre-conceptions on life and the decisions we make. This novel invites readers on a journey into our own spiritual outlook.