Readers - Please note that listed prices are accurate at the time of posting and are subject to change. Availability and prices may differ from country to country.
Authors -
If you would like your book(s) to be included in this daily listing,
please click
HERE
Driving in Reverse (Part 1 to 4) by EC Richard
Amazon Kindle
Genre - Mystery & Thriller (PG)
Price - $0.99
Zachary Haas had a normal life-good job, nice apartment and a coworker he'd secretly loved for five years. That is, until he was hit by a car. Dead, on the street, he's give a second chance. He is brought back to life three days before the accident, and is given an opportunity to live life again. But, if he survives, the same car will kill an innocent little girl. The choice is his.
Time-Storm by Louis B. Shalako
Genre - Science Fiction (PG)
Price - $2.99
Althea is the source of piezo-temporal crystals, which distort time and make interstellar space-flight possible. The Company has a monopoly, but when aliens show up to do a little mining of their own it spells big trouble. The twenty-three year-old mechanical engineering technologist Mickey and his friends race against time to save the others, foil the aliens and win their freedom. For not one, not two, but three alien species to show up at the same time on a planet thought to be uninhabited is more than just bad luck. When the biggest time-storm in decades hits, the best laid plans of aliens and men go awry.
When aliens show up and start injecting their DNA into human beings. Micky and Tom and Melissa head for the hills while they try to figure things out. Tom and Melissa are getting a divorce, and the fact that Mickey was framed up to make him a debt slave to the Company hardly complicates matters at all.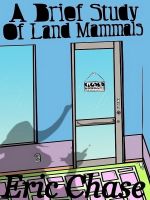 A Brief Study of Mammals by Eric Chase
Genre - Literary Fiction (PG)
Price - $2.99
Eddy's get-rich football betting scheme has yet to pay off, so in the meantime, he continues to endure the grind of daily life. Luckily, he fancies himself an American looking at America, studying the masses. Observing the mating habits and seasonal migration patterns of every day men and women. Eddy struggles to find the meaning behind it all, the motives of these Land Mammals.
As Eddy teaters closer to the edge, he finds himself faced with a self-imposed ultimatum: to find wealth, love and success, or die trying.